STIHL Chainsaws.
STIHL is the number one selling petrol chainsaw brand in the world. Why? Because they prove themselves day after day, year after year. In fact, STIHL has been proving itself since 1923, when we invented the first powered chainsaw.
Since then STIHL has been the name that professionals and homeowners have turned to consistently. Whether working deep in a forest, in a park, landscaping, contracting or in your own garden, a STIHL chainsaw won't let you down.
There's something about German design and engineering. Quality is always the number one consideration: quality in design, for ease of use and quality in construction, for longevity.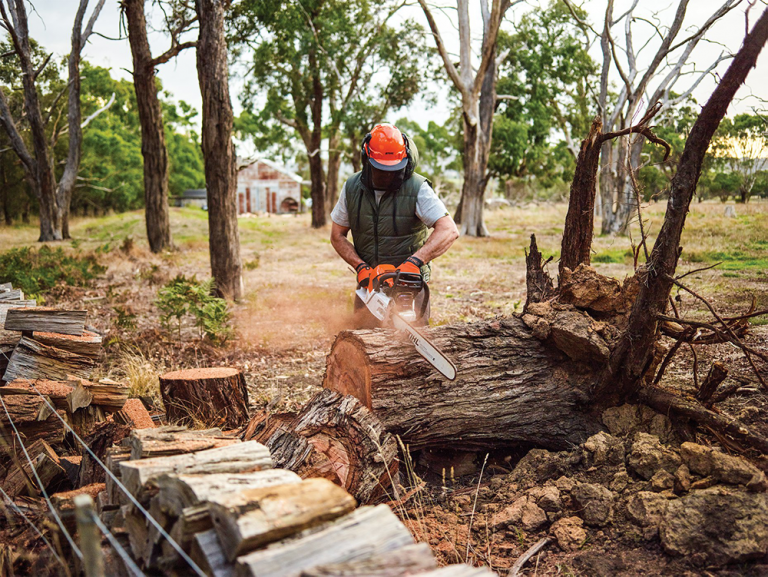 When you buy a STIHL chainsaw, you're also buying ongoing support and commitment from the most experienced outdoor power equipment network in the world. In Australia, there's more than 600 dealers nationwide, all qualified to make sure you choose the chainsaw that's right for your requirements, to instruct you in the finer points of its operation and to set it up so that it's raring to go to work. And of course, your local STIHL dealer will help maintain your chainsaw in optimum working condition, ensuring maximum working efficiency and the sort of legendary longevity that sees STIHL chainsaws passed down from generation to generation.
With an extensive range of powerful chainsaws, from lightweight all rounders, to powerful workhorses, there's a STIHL chainsaw for every job including the new and most advanced chainsaw in the world; the MS 500i. With electronic fuel injection and the best power to weight ratio on the market, its cutting power is nothing short of extraordinary.
Every STIHL chainsaw combines STIHL's legendary reliability with world-leading technology and operator comfort. That is why a STIHL chainsaw is an investment that will make your life easier for many years to come.
Homeowner Chainsaws | Landowner Chainsaws | Professional Chainsaws
Battery Chainsaws | Electric Chainsaws
Arborist Chainsaws | Emergency Rescue Saws | Pole Pruners
---
Our Newest Chainsaws

Providing Rockhampton with chainsaws for over 50 years.
Call Rimrock now on 07 4927 7033.
Servicing and Maintenance
We recommend a general checkup and service of your saw every 12 months.
However, the unforeseen can happen, and when it does, Rimrock are here with full servicing, replacement of parts and repairs should you require them.
At our annual service of your saw, we'll
Flush tanks
Clean carbys
Clean or replace the air filters
Inspect the sprocket
General check over
Chain sharpen
Check bar and chain
As well as a general clean and tidy up. To organise a service, call the team today on 07 4927 7033.