Petrol & Electric High-Pressure Cleaners
---
We supply and service high-pressure cleaners from Spitwater.
Spitwater Australia has been building high pressure cleaners at its modern production facility in Albury, southern NSW, for over 30 years.
---
A high-pressure water cleaner can refresh tired-looking surfaces.
High-pressure cleaners will make light work of cleaning all sorts of spaces around the home.
A pressure cleaner, also known as pressure washer or water blaster, is essentially a water pump, powered by an electric motor that takes in water (from the garden hose) and uses the pump to accelerate the water to high pressure which is released when you pull the trigger.
Various cleaning nozzle attachments can be fitted to control the spray of water and are ideal for cleaning different surfaces. Compared to scrubbing with a brush or broom, powered high-pressure cleaners are a relatively fast and very effective way to clean heavily soiled areas, including: mossy or lichen-covered tiles, stained paving and paths, outdoor furniture, and dirt on car wheels and bodies. Plus there are more powerful petrol models ideal for commercial surface cleaning or cleaning and maintenance of industrial machinery.
Whatever you are planning on using your high-pressure cleaner for, we've got the right model for the job.
We recommend a spot test before getting started to make sure it won't damage the surface.
Why would you get your high-pressure cleaner any where else?
Talk to the experts at Rimrock today on 07 4927 7033.
Electric High-Pressure Cleaners
STIHL portable cold water High-Pressure Cleaners remove even the most stubborn dirt, ideal for use around the property or for serious users.
The range features robust design and technology features, including:
Adjustable pressure / flow control on the machine
Low-speed engine and robust brass pump head with ceramic pistons
Automatic switch-off function and delayed engine shut-down
The range of electric pressure cleaners are perfect for all sorts of jobs around the house.
Shop STIHL Electric Pressure Cleaners

---
Petrol High-Pressure Cleaners
The NEW STIHL Petrol High-Pressure Cleaner range brings the power you need to make light work of creating spotless walls, paths, vehicles, tools and more. These cleaners are easy to use with features including the ergonomic professional wand, enabling you to adopt a more comfortable working position that makes cleaning less strenuous.
Read more on the STIHL Blog. Real Dirty. STIHL Clean. Introducing the new STIHL Petrol High-Powered Pressure Cleaner.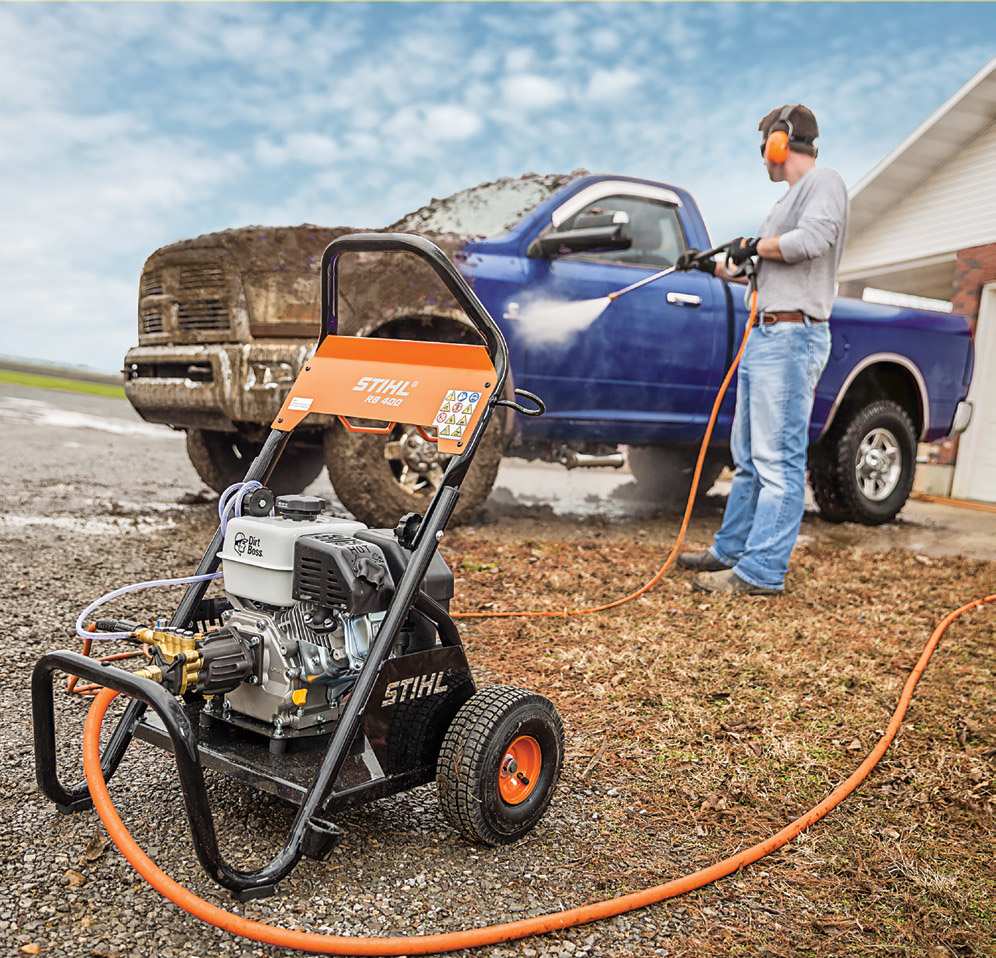 See the STIHL petrol high-pressure cleaners in action.
Shop STIHL Petrol Pressure Cleaners

Talk to the team who've been selling and servicing high-pressure washers in Rockhampton for over 60 years.