Pump Rockhampton
Get water where you need it to go with a premium pump
When you're looking to direct a lot of pressure to put out a fire, or are looking to transfer a large amount of water, you'll need a water pump. Rimrock Agencies have been supplying and servicing firefight and water tank pumps for over 60 years, working with the best suppliers in the world to provide the local community with the most premium products on the market.
All of our water pumps are powered by Honda engines, and are diverse in range, so that we can cater to our customer's wide range of needs. We stock both
If you're in need of a water tank pump in order to move a large volume of water from one place to the next, consider our transfer pump range. Alternatively, for fighting fires or other circumstances that require a high-pressured projectile of water, our firefight pump range will be for you.
At Rimrock Agencies, we only supply products that we'd happily stand behind, and do so by offering servicing, repairs, and all of the spare parts and accessories our customers could possibly require.
The relationship doesn't stop at the sale, the experts at Rimrock are here to support your outdoor power equipment's ongoing performance.
Direct water where you need it to go, how you need it to go.
Call Rimrock now on 07 4927 7033.
Our Water Tank Pumps and Firefight Pumps
With over 60 years of experience selling and servicing water pumps, we know our industry well, and have stocked the products that we truly stand behind.
We only work with manufacturers that provide premium products, as we firmly believe in the ongoing quality and thus usability of a product as more important than anything else.
If we stock it, we stand behind its performance.
Whether domestic or commercial, wheel around or portable, talk to an expert at Rimrock today about the right piece of equipment for your application.
Click the links below for more information.
Davey Pumps | Davey Firefighting
We also recommend you consult the chart below when choosing your pump.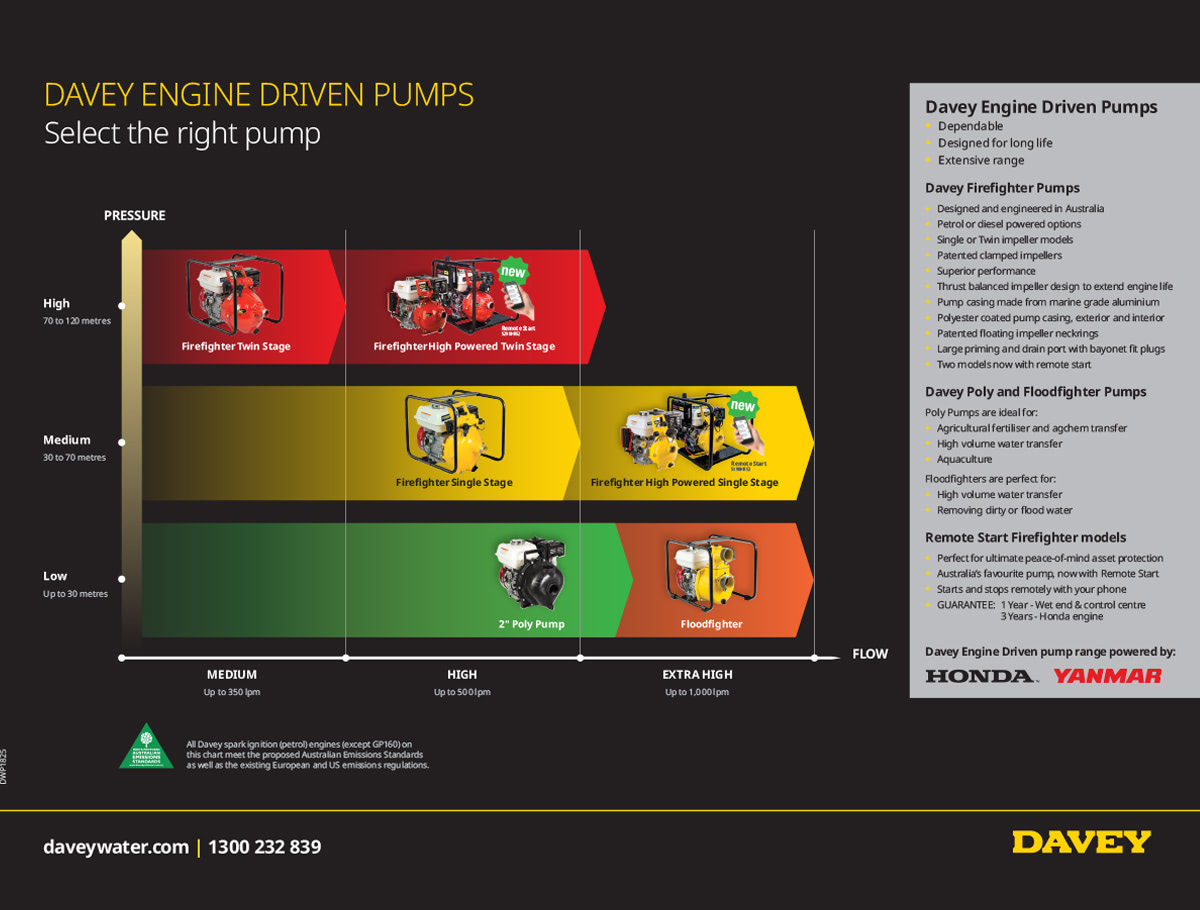 Servicing and Maintenance
We recommend a general checkup and service of your water pumps every 12 months.
However, the unforeseen can happen, and when it does, Rimrock are here with full servicing, replacement of parts and repairs should you require them.
At our annual service of your pump, we'll
Clean and/or replace the air filters (no oil filter)
Change the oil
Make sure there's no debris in the pump
General check over
As well as a general clean and tidy up. To organise a service, call the team today on 07 4927 7033.
How it Works
Visit us at our showroom for any enquiries related to the supply or servicing of any water pump, whether a water tank pump or a firefighter.
One of our expert team members will recommend a product or service that is suited to your situation.
Delivery and/or pickup can be arranged for larger items, should you require it.
Get in touch again if you have any questions relating to maintenance or use of equipment, servicing and repairs, spare parts and accessories, or any other enquiry.
Give us a call to talk about our wide range of pumps!