Battery Tools – Lightweight, quiet, powerful
Achieving more in your garden just got a little bit easier. Lightweight, quiet and efficient, each machine in the COMPACT battery range of tools is effortless to control yet powerful enough to take on the tougher garden tasks. With Battery Power Made by STIHL, you'll be ready for any challenge. Available in 3 different ranges making them suitable for small gardens right through to professional daily use.

STIHL has the right solution for all those important, small jobs in the garden in its cordless product range. The tools feature streamlined and modern design, making them extremely easy to handle, while their low weight and integrated battery also makes the hedge trimmer, blower and brush cutter easier to operate. These cordless products do not require extensive preparation before use.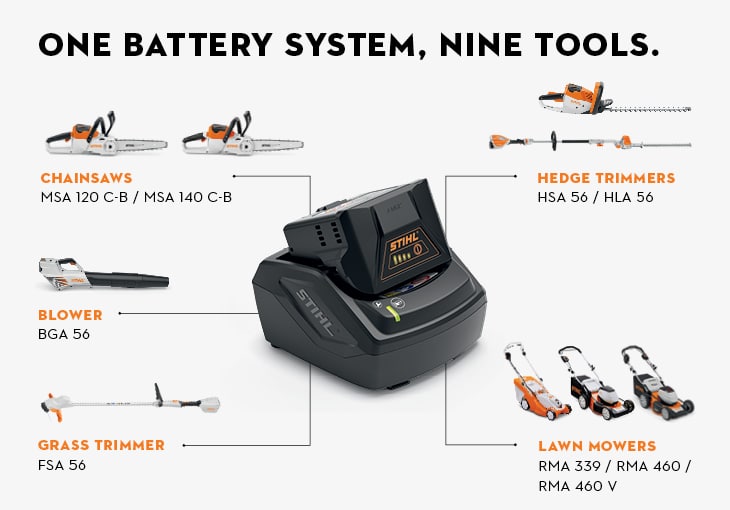 With the COMPACT cordless power system, you're well equipped for the demanding challenges posed by your garden. The replaceable AK lithium-ion batteries offer high performance and lots of staying power, even when processing large areas. All AK batteries can be easily combined with an AL charging station and any COMPACT tool.
Powerful performance, long battery life and outstanding handling are essential when tackling more demanding gardening jobs. STIHL's professional battery products offer quiet, emission free performance, particularly useful in noise-sensitive areas. For larger gardens and professionals, STIHL's PRO Battery Range offers consistently high performance, the greatest possible energy efficiency and flexibility in use. In this extensive range of tools, the professional user will find a tailored product for any requirement faced in their work.