Garden Shredders and Chippers
The garden should be a source of pride and an oasis of relaxation. It is also a piece of nature that needs to be cared for and managed effectively. This can be a fulfilling task for many amateur gardeners, when reliable tools are available to make gardening easier – such as a practical garden shredder.
Garden shredders are incredibly useful machines for several reasons: They tidy up waste such as lawn, tree and hedge cuttings, leaves and withered flowers. A shredder creates space and relieves you of bulky branches, bushy twigs and plant trimmings produced throughout each year. In the process, shredders significantly reduce the volume of the cuttings. These can then be more easily disposed of, or used as the basis for mulch or compost. In addition, a garden shredder provides valuable raw material.
The composted shredded material contains exactly the right balance of nutrients that your garden plants need in order to flourish. To aid this, the shredder's blade systems shred the plant trimmings so finely that they quickly decompose to form high quality fertiliser.
When looking to purchase a shredder or tree mulcher, you need to know what you're looking for. For each and every application, big/small, domestic/commercial, there are different sizes and capacities of machinery available.
Using the expertise of Rimrock's team helps you find the right piece of equipment for the job you are intending to use it for, every time. In fact, we stock and service such a wide range of shredders and tree mulchers, that if we can't find the right piece of equipment for you, it probably doesn't exist.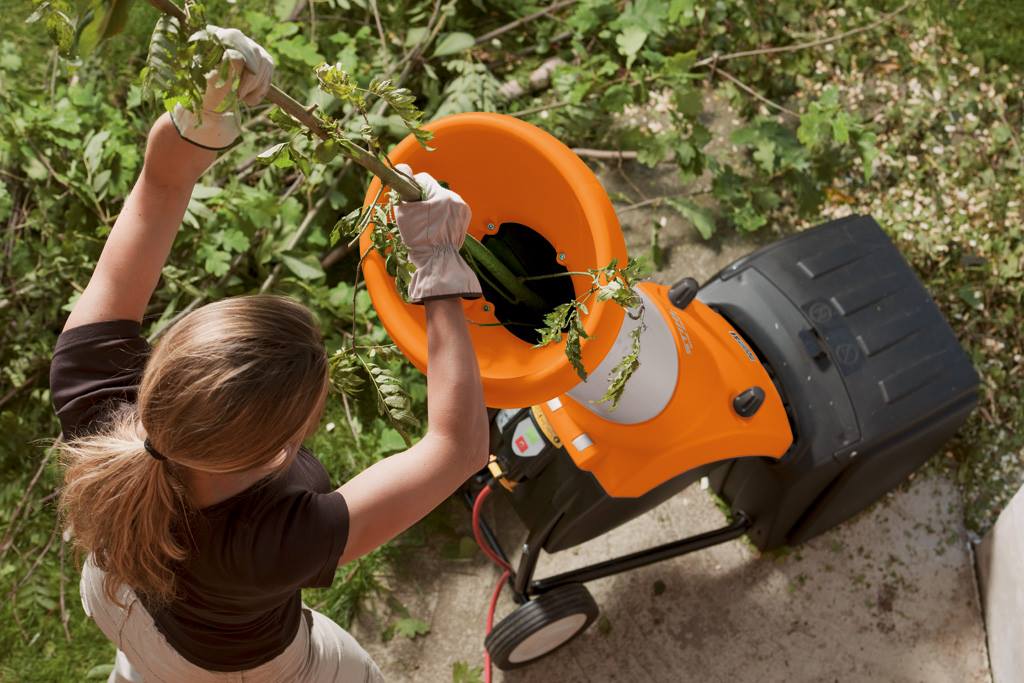 STIHL Garden Shredders
Looking for a garden shredder? STIHL shredders can effectively process any raw materials that the garden creates, such as tree, hedge or lawn cuttings. STIHL garden shredders ensure that hard branch material is chipped, while soft organic waste and leaves are shredded. This forms an excellent basis for the creation of valuable compost and mulching material which makes the garden really flourish. Whether you are looking for electric shredders with chipping or shredding units or electric combination shredding and chipping units, we have the garden shredder for you.
STIHL Garden Shredders are not only a valuable asset for your garden, but also for the environment. Our machines are also produced using recyclable materials. A STIHL Garden Shredder pays off in the long term – for your garden, your wallet, and the environment.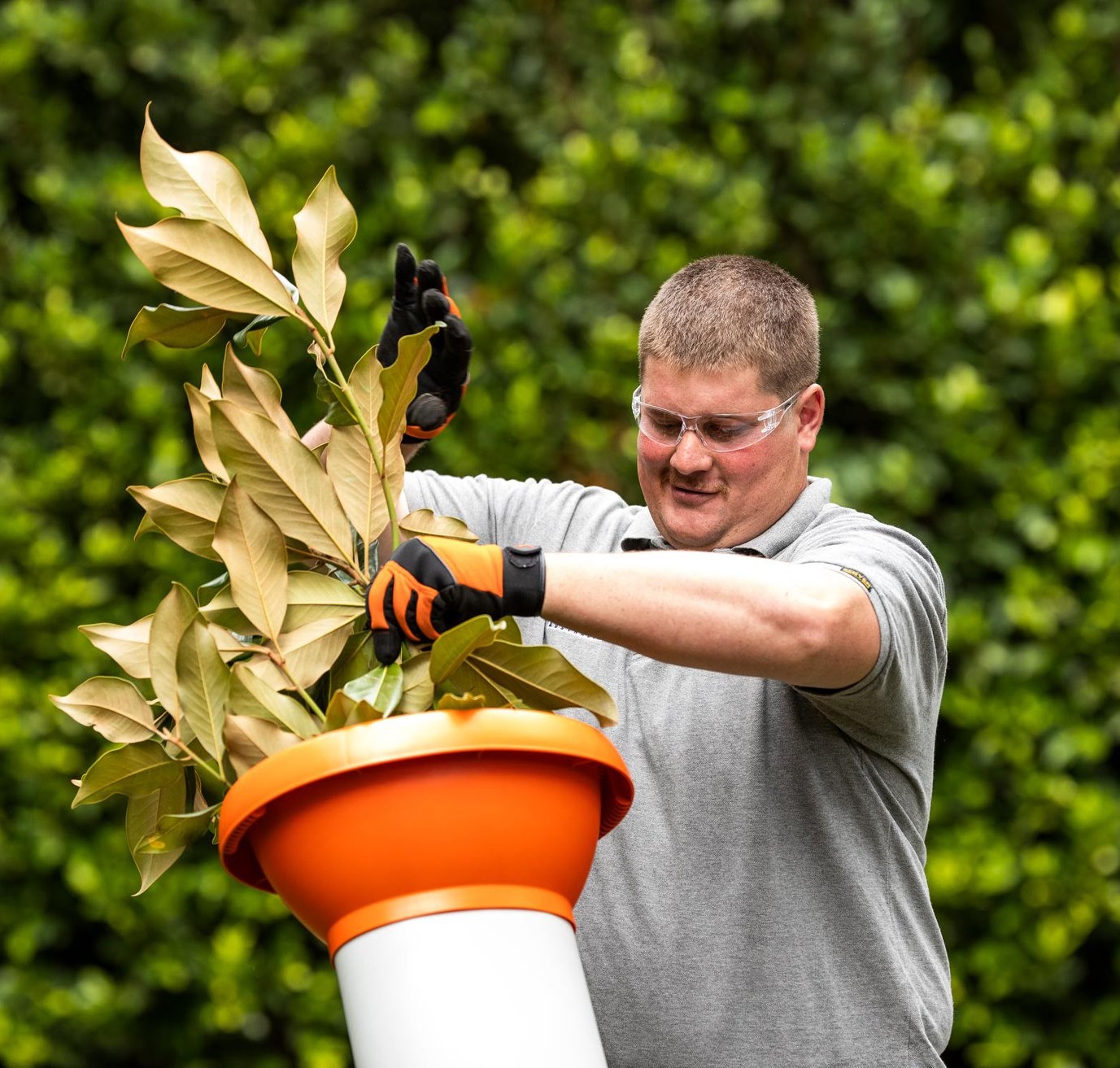 Shredders convert large volumes of tree and shrub cuttings, as well as other plant trimmings, into fine shredded material. This can then be used as ground covering material or as compost to form fertiliser and humus. The shredded plant trimmings can be composted in a dedicated bin or composter and different types of material can also be mixed in. By shredding material first, the creation of compost is quickened as the material has already begun to be broken down before inclusion.
---
Hansa Chippers
Established in the 1980's, Hansa Products are specialists in the design and manufacture of high quality chipping and shredding equipment. Hansa have been around long enough to say they know chippers – they've built and sold over 20,000 chippers after all.
Garden Chippers by Hansa
Garden chippers are great for processing all your unwanted branch and organic material into mulch of a fine, even texture – ideal for composting or mulching. A Hansa chipper will offer you a much faster, more efficient and more user-friendly operation. The rotor design allows fibrous materials such palm fronds to be processed. Recycle your waste and return it to your garden as rich organic fertiliser and retain moisture in the ground!
Acreage Chippers by Hansa
Owner of acreages and smallholdings up to 20 hectares need chippers capable of handling a larger capacity and volume. With a maximum capacity of 70 to 130mm the acreage range include road tow-able or tractor mounted options to suit a wide range of applications. A Hansa chipper will chip/shred any branches (green or dry), along with other general garden prunings such as hedge material, vines and flower stalks. With its efficient self-feeding action, the lifestyle chipper range are our most user-friendly chippers. Thanks to the higher outlets, your mulch can be discharged directly onto a trailer, ute or wheelbarrow, eliminating the need for double-handling.
Commercial Chippers by Hansa
For arborists chippers need to be powerful and versatile to adapt to whatever job is on hand. Hansa's commercial chippers are compact and transportable into awkward job sites but powerful to chip up to a max of 150 to 254mm capacity.
---
COX Super Chipper Range
Australia's champion SuperChipper – 4-stroke power that eats branches, pruning and garden waste, and then turns it into nutritionally rich, environmentally friendly garden mulch.
Turn branches and prunings into garden mulch, save on dump costs, no more un-neighbourly burn offs, return valuable nutrients to your garden soil from which they originated. Our larger capacity models effortlessly turns branches up to 90mm thick, into chips 10-20mm ideal for orchard or garden nutrient-rich mulch and compost.
---
Read more about Shredders, Mulching and Chippers:

What you need to know when buying a Chipper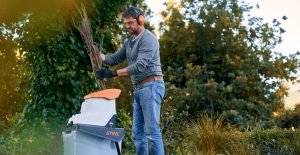 Talk to an expert about a premium tree mulcher now.
Call Rimrock now on 07 4927 7033.
Servicing and Maintenance
We recommend a general checkup and service of your shredder every 12 months.
However, the unforeseen can happen, and when it does, Rimrock are here with full servicing, replacement of parts and repairs should you require them.
At our annual service of your shredder, we'll
Oil change
Air filter change
Check the oil level in the pump
Clean-down and general look-over
Check the blades, replace if they need, check balance
As well as a general clean and tidy up. To organise a service, call the team today on 07 4927 7033.
Looking for a new piece of equipment?