Welcome to week 5 where keeping your grass area maintained includes regular grass trimming, edging and mowing. Rimrock Agencies can help your ongoing lawn maintenance program with the right equipment so come on in to our store and see for yourself how affordable we are.
Week 5 Ongoing Lawn Maintenance
We all love our lawns and all the wonderful uses for them! Throughout the warmer months, our lawns not only keep our gardens looking lush and green, but they double as a cricket pitch, footy field, picnic ground or even a dance floor! Keeping your grass area maintained includes regular grass trimming, edging and mowing.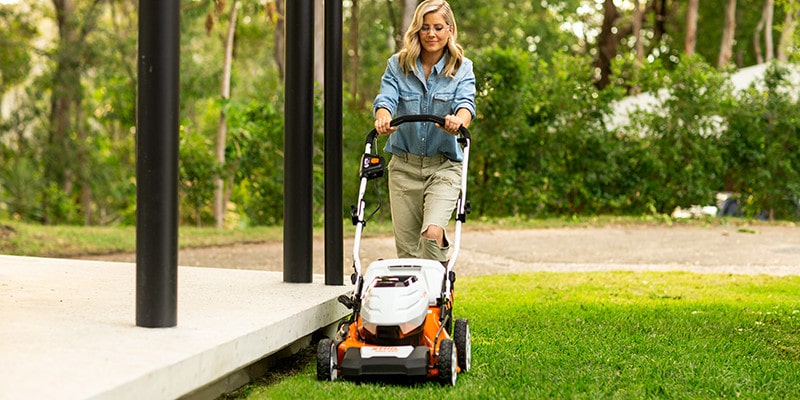 When it comes to trimming, use your grass trimmer flat, along the top of the lawn to trim against retaining walls and fences, posts, play equipment and lights. The grass trimmer is also useful for areas that the lawn mower can't reach, and to cut through thick grass that has got away from you. Grass that is growing through shrubs or under hedges, or has become waterlogged due to excessive rain, will also be easily trimmed back by the grass trimmer.
Weekly edging keeps the grass contained and gives a nice sharp edge defining the garden beds, pathways and boundaries of the lawn. Use the edger to ensure you get a straight line.
To get a nice clean edge vertically around the perimeter of the lawn, the KombiSystem or MultiSystem with the lawn edger attachments will give you edges to envy. The rotating metal blade will result in a sharp edge to define the lawn areas and keep them separate from the garden edging, stone work or pathways.
After you've finished edging, make sure you blow all the clippings back on to the lawn with a garden blower, ready for the lawn mower to suck up once you start mowing. Run the lawn mower over the lawn in nice straight lines to get a clean cut lawn.
There are numerous types of grasses that are used for lawn areas, with the most common being Buffalo, Kikuyu and Couch. Buffalo grass comes in a few varieties including 'Sir Walter', and has a deeper green soft blade and a nice thick growth habit. Kikyuyu is a lighter lime green colour with vigorous growth and couch is a lovely fine grass kept short, commonly seen on golf greens.
As the weather warms up and the rainfall increases through the later part of the year, mowing should be done on a weekly basis. Weekly mowing encourages the lawn to grow sideways, producing a nice thick lawn. If the grass is not mowed regularly and allowed to get too long, there will be a lack of sunlight hitting the lower parts of the grass blades, resulting in yellowing of the lawn.
Ongoing fertilising is also required to keep the growth thick and green and is recommended twice throughout the hotter months. Slow release fertiliser or organic lawn food should be distributed evenly over the lawn using a spreader in early Spring and late Summer. It is good to give the lawn an initial feed in early September to give it a boost after the cooler winter months, and then the next fertilise in late Summer to keep the lawn going through Autumn and leading into Winter. In addition to the slow release fertiliser, you can also use liquid or hose-on fertilisers to achieve a quick greening of your lawn.